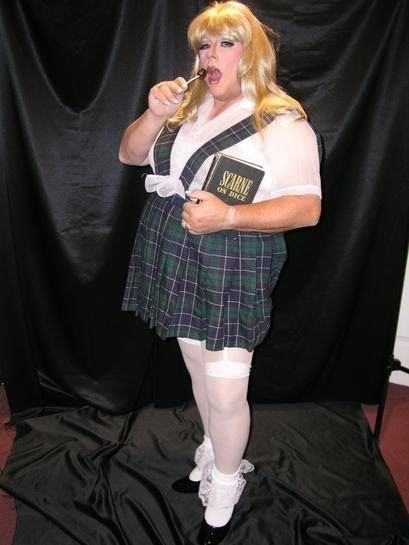 msmarcymonroe has been one busy sissy slut today.  Last night she had the cam on but it was way too dark to see, now the cam is giving her problems, but, here is our i.m. about an hour ago:
msmarcytg: just finished number 5 today
mistress_always_wins: lol..anything worth blogging?
msmarcytg: skinny dick Wednesday in vegas, long but skinny, all of them
mistress_always_wins: so cable guy came over for a bj????????
mistress_always_wins: lol..omg you slut
msmarcytg: yea, all sort of people are stopping by, I think I have lost control
msmarcytg: pe-nut just left, another skinny cock
mistress_always_wins: I cant believe it…a cable guy…lol
msmarcytg: the word is out i guess
mistress_always_wins: that's like a phone sex fantasy…damn
mistress_always_wins: what are you wearing
msmarcytg: black guy 30 something, cox cable shirt and truck
mistress_always_wins: lmfaoooooooooo!!!!!!!!!!
msmarcytg: maroon a line dress, bra, panties, hose heels and blond wig
mistress_always_wins: next guy umming? what time so we can cam you
mistress_always_wins: cumming
msmarcytg: 2 pm if he shows, having cam problems again
mistress_always_wins: if it's good I'll take a screen shot
mistress_always_wins: oh damn…ok
mistress_always_wins: maybe you can suck him off while I listen on phone
msmarcytg: k
mistress_always_wins: I hear the built in cams suck a bigger one than you do…
msmarcytg: that is what i have, i will keep trying
mistress_always_wins: ok..I have stuff to do, hit me up when yer "date" comes, slut marcy
mistress_always_wins: I'll be here if you need anything
msmarcytg: yes maam
mistress_always_wins: did you call Ms Trish?
msmarcytg: nope have not had a minute
mistress_always_wins: wow..ok..tty in a bit, freshen up yer lipstick, slut
msmarcytg: yes maam
So far I'm reading a slew of e-mails from tricks coming over for some hot lip action from marcy.  If any of you guys want to ask her questions and make an appointment, there is her i.m. handle, she also offers phone sex on nite flirt at a very reasonable rate.  Tell her Mistress Cassandra sent you and she will give you extra attention.  I have been meaning to put marcy's call button on my blog here.  This week she will be doing a you tube video to plug sissyschool, Me , Ms Trish, and of course Ms Ally who made our school possible!  she must do this enfemme, in the girliest voice, on the Las Vegas strip.
On a more somber note, a bit of a glitch happened during c4MC's lockup .  It seems the chain got a bit twisted, thus shortening the chain by 2″, so he was bent over in an uncomfortable configuration.  We cannot have this , as it puts stress on the cervical vertabrae, not to mention the stress on the lower back.  The program was aborted.  he seemed a bit bored with it anyways.  Being cocklocked is much more doable in phone domination than chained and bound is.  A cocklocked slave is able to go out and do things, but such is not the case with a chained and bound slave.  I sent the combination to the key safe in an e-mail.
vodka terry is back!  A great stroker boy he is. We had a 90 min call and caught up on things…his loving cat Dexter passed away, a huge Siberian Snow Kitty.  I was so sad to hear about that, but putting all else aside, I didnt let him cum.  Just like I didnt let "control_me" cum…the poor boy feels neglected, well it's not like he calls all the time. How am I supposed to remember to blog everybody….my gawwwwwwd. 
Tonight on cock radio, Ms Hannah and Ms Tia , back to back, are having a Halloween party stroke off.  They will be gracing the airwaves a little later on, so be sure to stop in.  My obnoxious self will be there for a bit, so stop in…that is if I'm not busy with msmarcy 🙂
1-800-730-7164
www.thedicktator.com