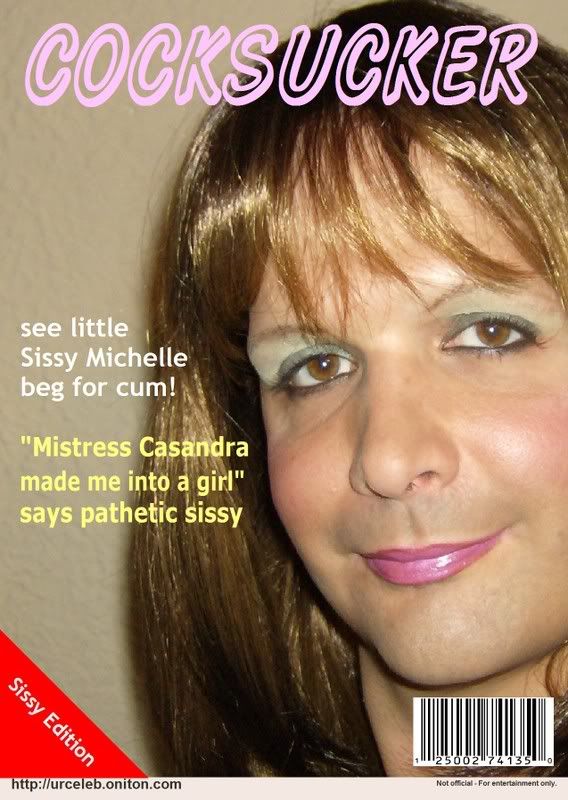 My darling litle michelle is back with some awesome lil pikkies. Here is one.  I'll save the other for another sissy day which will be most likely in a few days. Lil michelle has been gone for a bit (purging perchance? hmmmmmm????).  I have missed talking to her the little pansy.  I submitted an assignment to Ms Carmen (Carmine according to hana hotlips1…lol..get it right hana 🙂 ) about how gurls should have a blog to post their "becumming" and the journey into sissydom.  (also that slut hotlips sent Me the nastiest pics imaginable of her new red heels on with her pecker in hand stroking just for Me…oh man). I do believe sissy journals are very interesting. Take a look at sissy dollie's blog and that link is to the left under blogroll.
Did I mention goth gurl katie from the other night? The one with the smoking fetish and loves to wear nuns habit? A truly fab call and can't wait for the next! She saw Me smoking in the new club: http://communitykink.ning.com/, and gave Me a call.  We had a great chat about how she dresses in nun's habits at goth clubs. We both had some smokes together.  I had American Spirits lights and she was smoking Virginia Slims.
Tomorrow night I'll be interviewed on chastity , cock control, humiliation et al at 10:30pm eastern on Kink Talk Radio .  This is a regular show with Ms Ava and Cecilia every Saturday night.  Many of us will be hosting weekly shows and Ms Sarah and I are kicking around doing one as well.
MCsub called a few days ago swelling in his cage hoping I would free him from chastity. No way.  he has to wait until Saturday for release.  That's the deal. It will be before the show because it will be too late after. Mistress needs to get up early on Sunday for a gym class. Control in every phase of reality is very important. Control is the keyword.
There is alot of essay writing going on in this company now. I don't do them, not that I can't, I simply don't have time .  Tomorrow night I will give a verbal essay.
vodka terry was denied yesterday after 90 min of stroking, and he was not way plastered, I did, however hear the glass jingling, the cigs lighting, always My cue to have one as well, annnnnnnnnnd…he thanked Me like the fine midwestern gentleman he is, for not allowing him to cum. This is the honor system that Im going to talk about as well.  I may have some beer in praise of forced intoxication but only a few Red Stripes or one Chimay .
In praise of Femdom, visit the new and improved Pleaseyourmistress site.  If you want some girl on top phone sex visit Vox Erotic, and if you want to be in captivity, see our new site Captivity Hell!
1-800-730-7164