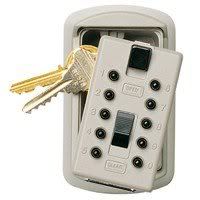 The GE Interlogix Supra is by far the best keysafe for chastity slaves and keyholders.  This device prides itself as being the leader in "key control", a very funny description to Me , in the name of cock control, orgasm denial, and the like. There are ten buttons to use for the preset combination, the best being 4-7 choices . One would need to try a billion choices to crack the combo. It's by far the very best choice.
Happy Valentine's day to everyone who celebrates it.  I really don't care about it because I don't have a sig other nor do I want a sig other right now. I find when a sig other is in My life things become too complicated. I imagine one day when I'm in My 50s or 60s I may want a "YOUNG" man to hang out with for My amusement. They are always best 10 years younger because they will most likely prefer a dominant woman. A sissy will do , as a sissy male would be very devoted. A sissy most likely has less testosterone than an alpha male and would be a faithful servant.  There are sissies, however that are capricious sluts and lie as well as a testosterone max alpha male.  These sissies are faithful to no one, not the sissy I would consider. Another point is, mostly they arent the best sex partners having alot of "fetish" issues. This is where good old fashioned cuckolding comes in, a thing that many sissies enjoy and would love to experience.
Thank you vodka terry for the lingerie prezzies..I'll bet you would love to see Me in all of these now wouldnt you!
1-800-730-7164